Sulawesi Island has a very amazing underwater tourism beauty that is Bunaken Marine Park. What's more, the waters of North Sulawesi are home to many underwater species. However, the earthquakes in Palu and Donggala remind us that Indonesia is not just Java Island.
The earthquake in Palu also reminded us that Indonesia has other more beautiful islands. Perhaps this is God's rebuke to us, to keep what He has created.
After last year Sulawesi Island was rocked by endless disasters, ranging from flash floods and earthquakes, let's move on! Let's get up! Now we will provide information that will be very useful for you. This information about tourism and the beauty of Bunaken Marine Park owned by Sulawesi Island.
Location of Bunaken Marine Park
Bunaken Marine Park is located in North Sulawesi, Indonesia. This Marine Park was established in 1991 with an area of 890.65km2. Of this area, only 3% of the land. Rest? The rest is the ocean. Bunaken is home to 300 species of underwater flora and fauna. Do you know any other name for Bunaken? Another name is the coral triangle, as Bunaken is home to hundreds of species of underwater creatures.
Bunaken Charm Festival
The Ministry of Tourism continues to try to develop the tourism values of Bunaken itself. The Regional Tourism Office holds the annual Bunaken Charm Festival in the middle of the year on July 19-22. It started in 2016 until now.
This is done to increase the number of domestic and foreign tourists who come to travel in Bunaken. At this festival held exhibitions of the handicrafts of the surrounding community, manado specialties, and some counseling about the world of Bunaken tourism. The implementation of this festival is indeed able to increase tourists who come to Bunaken Marine Park.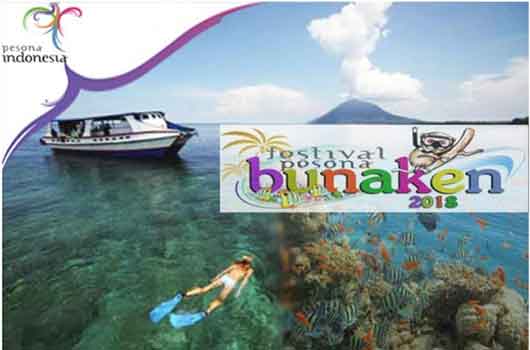 People who live around Bunaken are also expected to entertain tourists well, be it domestic or foreign.
Underwater Beauty in Bunaken
Bunaken is an underwater tourist spot that is highly sought after by foreign tourists. The underwater beauty offered by Bunaken will amaze you.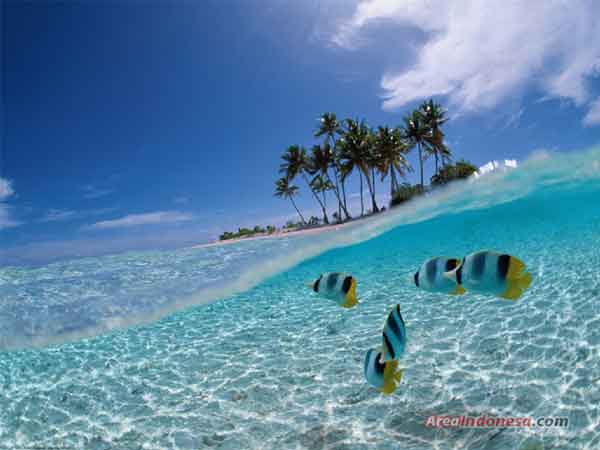 Bunaken Underwater Spot
This marine park in north Sulawesi has 20 most beautiful spots for diving. Among these spots you will be able to see the colorful Bunaken coral reefs. Diversity of species of fish, seaweed, algae, and many others.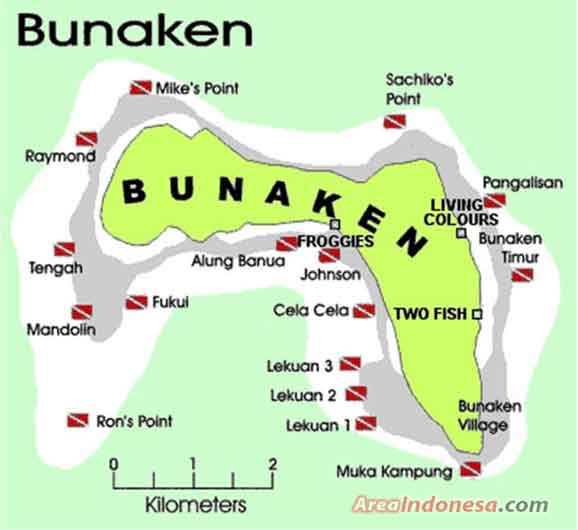 Bunaken Gateway
You can reach the location very easily. Book a plane ticket to Manado. It could be from your hometown to Jakarta first, then to Manado. Or it can go directly to Manado via Surabaya or Denpasar.
From Manado you can go to manado bay and ride a motorboat that is there to be able to reach Bunaken Marine Park. Admission to Bunaken Marine Park is around 50 thousand rupiah per person.
Around Bunaken Marine Park there are also hotels that can present directly the beauty of the Bunaken sea. So you do not need to bother having to check in the hotel first just a walk, because around Bunaken there is a hotel.
Check out the charm of tourism in Nusa Tenggara:
√ The Amazing Natural Beauty of Indonesia on Mount Rinjani
√ Lake Kelimutu and the Natural Beauty of Flores
√ Attractions to Do in Komodo Island
or..
√ of Gunung Kerinci in West Sumatra and 7 mainstay tours
√ The Charm of Lake Toba North Sumatra
Are you still afraid of Bunaken? Do you want to miss the beauty of Bunaken Marine Park? Hopefully this article can help you in getting to know the tourist attractions in Indonesia.
[CHECKLOCATION] Address: Liang Beach Bunaken, Wori, North Sulawesi.