Have you ever visited Kerinci Mountain? If you mention Mountain Kerinci, what do you think? This time we will discuss for you about Kerinci mountain and its mainstay tours. Are you ready? Let's get started!
Mount Kerinci is the highest mountain on the island of Sumatra and is also the highest volcano in Indonesia. This mountain is located in jambi province, which is directly adjacent to West Sumatra. Mount Kerinci has an altitude of 3,805 meters above sea level. If you can reach the top of Kerinci Mountain then you can see the beauty of the cities of Padang, Bengkulu and Jambi to the expanse of the Indian Ocean.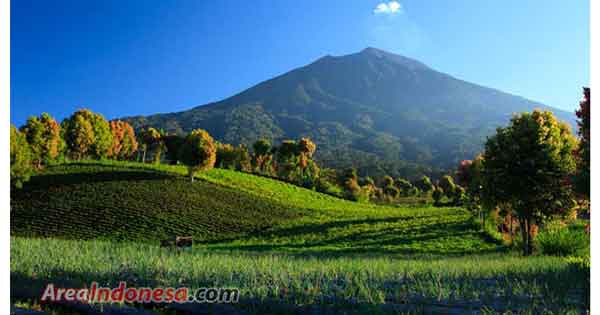 Location of Kerinci Mountain
Kerinci Mountain is located right on the border between West Sumatra Province and Jambi Province. In the Bukit Barisan Mountains near the west coast and located about 130 km south of Padang West Sumatra Province
It's amazing, isn't it? Mount Kerinci is surrounded by dense forest which is now Kerinci Seblat National Park which is also a protected forest for two endemic animals of Sumatra, namely the Sumatran Tiger and the Sumatran Rhinoceros.
What are some natural attractions that you can find around this mountain? Let's talk about it!
1. Mountain Lake seven
Gunung Tujuh lake is located in the Kerinci area precisely in the village of Pelompek kec. Ayu Aro. This lake is located behind Kerinci mountain, the area of Mount Seven.
In this area you will be facilitated with access. To reach the location you do not need to trekking far away. This lake becomes one of the attractions that you can easily access and you can see the beauty of this lake.
You will be amazed by the beauty of this lake. The lake is surrounded by mountains around it. This lake is at an altitude of 1,950 meters above sea level. If you want to have an experience that can not be forgotten, then you can try to soak in this lake, because this lake has water that can be said to be very cold. Interested in trying?
2. Smoky telun waterfall
The source of water from telun smoky waterfall comes from the rivers around Mount Tujuh. You can find many other waterfalls around Mount Tujuh. However, this Smoky Telun waterfall becomes one that paliing stands out for its beauty. This waterfall has a height of less than 50 meters only.
3. Lake details
This lake is located in Kerinci regency with an area of 5000 square meters and 783 meters above sea level. Lake Kerinci has a depth of 110 meters. This lake is located at the foot of Mount Rayo Kerinci regency. If you want to access this lake, you can simply take a road trip from sungaipenuh which is about 16km away. Lake Kerinci helps meet the water needs of the surrounding villages.
4. Rayo pancaro waterfall
This waterfall is located in the village of Koto Tuo, Roving Lake subdistrict, Kerinci district, Jambi Province. This waterfall is the highest waterfall located in the village of Koto Tuo. The height of this waterfall reaches 150 meters. You have to look up at the sky to see the top of this waterfall. What distinguishes this waterfall from other waterfalls? What distinguishes it is that this waterfall is able to create dew rain. This rain will amaze you. From a distance of 2 meters before reaching this waterfall alone, you can feel this dew rain. Are you interested in visiting it? You have to go through the jungle that is still very beautiful to reach this waterfall. Guaranteed tired you will pay off if you get to the location. This waterfall is a combination of nature that cools your heart.
The water source of this waterfall is directly from the water source of Mount Rayo, so the water is very soothing and fresh. You can directly drink this water to feel its freshness. You can also swim under this waterfall. However, if you are not physically strong with cold water, do not force yourself, because you may have hypothermia there. The water is really cold and fresh. If you visit Kerinci mountain, you can get other natural beauty that is no less amazing.
5. Turmeric mountain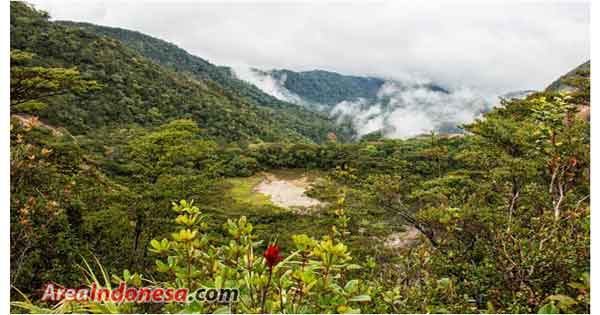 The mountain which is still located in the area of Mount Kerinci Seblat Park is home to endemic flora named "Nephentes Inermis". Mount Turmeric is located in the village of Talang Kemuning kabupatern (district) Kerinci. Actually, this mountain is home to flora and fauna that are almost extinct or already rare, such as the Sumatran Tiger. This mountain becomes a protected forest for this endangered flora and fauna. To reach this mountain, you have to travel about 7 hours, passing through the settlement of residents.
Mount Turmeric also stores so much flora such as raflessia flowers, semar sacs, moon orchids and many others. This mountain is suitable to be visited by researchers who want to research flora and fauna, also suitable for nature lovers. As you enter the forest on Turmeric mountain you will hear the birds of the horns, the roaring tigers and maybe even you will see how the tiger preys to survive. If you visit this mountain, you must be accompanied by a guide. Don't forget to stay alert when visiting.
6. Goa kasah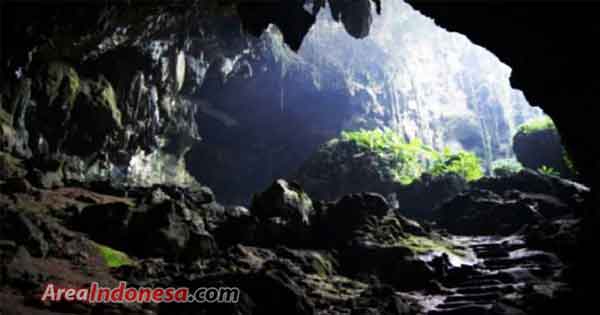 Goa Kasah is located in the village of Renah Kasah, Kayu Aro subdistrict is one of the historical heritage caves. The walls of the cave are engraved pyramids and obsidian that have been hundreds of years old.
The surrounding community believes that this cave is a historical relic that still has not been found bright spot. This cave is also home to bats and birds. This cave has an altitude of 1,400 meters above sea level. Various activities you can do here such as camping and photoshoots. Goa kasah is included in one of the natural beauty of Kerinci mountain which we summarized. Are you interested in visiting it?
7. Khayangan Hill
Bukit Khayangan is located in the village of Renah KayuDew, the city of Sungaipenuh Jambi province is one of the mainstay hills of Kerinci mountain tourism. This hill has a height of about 1,400 meters.
Located in the ranks of Bukit Barisan and being part of Kerinci mountain,this hill has a natural beauty that is no less interesting. Access to this hill is not far away. You can simply use the land route with it takes about 15 minutes to get to this Khayangan Hill.
Why do people call it Khayangan Hill? Because, if the weather is sunny, and if you are on this hill, you will feel the experience of beautiful clouds. Not only that, you will be spoiled with beautiful scenery.
You can see Mount Kerinci and Sungaipenuh City from a height on this hill. It will be even more beautiful if you can enjoy the sunrise from khayangan hill. Interested in visiting?