The island of Bali– as we know is a very popular tourist spot in Indonesia even popular to the whole world. In addition to having many famous exotic beaches, the island of Bali also has its characteristics, customs and interesting culture, which we need to know. One of them is a Balinese traditional house.
Balinese traditional houses are a reflection of Balinese customs that are thick with Hindu values. The variety of uniqueness and characteristics from the architectural side or philosophical aspects contained in it makes balinese traditional houses very interesting.
Balinese traditional houses are built on a fairly large land with several parts of the house separated by a distance that is quite far apart. Each part of the house has its own function and meaning.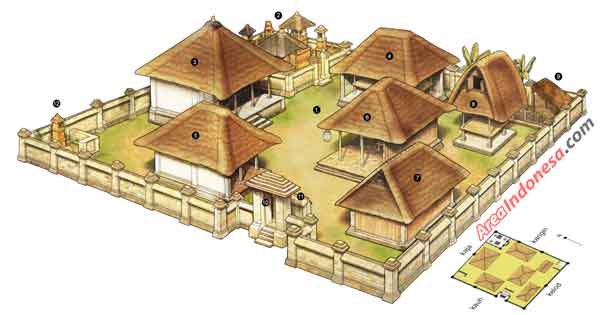 Balinese Traditional House Architecture
Balinese traditional houses refer to the traditional vernacular houses of balinese people on the island of Bali, Indonesia. Balinese traditional houses follow strict ancient architectural guidelines that are the product of a fusion of Hindu and Buddhist beliefs, fused with Austronesian animism, resulting in a house that is "in harmony" with The Laws of Balinese Hinducosmos.
Balinese architecture is a centuries-old architectural tradition influenced by Balinese culture developed from Hindu influences through the intermediary of ancient Java, as well as elements of pre-Hindu Balinese architecture.
Part – Part of Bali Traditional House
Balinese traditional houses are divided into two (2) types, namely houses used for customs or performing certain rituals called Gapura Candi Bentar and ordinary houses that are used as daily residences. Every house is always decorated with decorations and ornaments that represent its culture. The division of his house also has its own term, Asta Kosala Kosali which philosophically means to create harmony in a harmonious life.
Natah
Generally every house in Bali has a blank yard referred to as natah or natar. Natah has many functions, both the occasional function to the niskala function. Ceremonial activities, or socializing activities can also be done in natah. But not only at home who know natah, there is also natah pura, natah puri, natah village, and natah griya.
Sanggah Kamulan
The function of this building is as a place of holiness or worship of God and the holy spirit.
In this sacred building unit there are several buildings with their respective functions along with the number of these buildings varies greatly and depends on the owner. However, the absolute contained in one unit of the sacred building consists of: Penglurah, Kemulan, Padmasari, Peliangan, Taksu and Piyasan.
Bale Daja or Bale Meten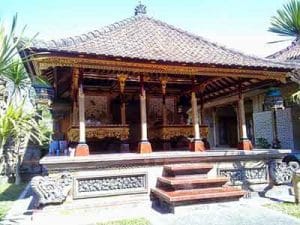 Bale Meten is located in the North (dajan natah umah) or to the west of the holy place/
Sanggah. Bale Meten is also often referred to as Bale Daja, because of its place in the northern zone.
(Kaja). The interior design facilities are 2 bales located on the left and right of the room.
Bale Meten building shape is rectangular, can use saka / pole
It is made of wood numbering 8 (sakutus), and 12 (saka roras). Bale Meten's function is to bed the parents or the Head of the Family on the left bale. While in the bale on the right is used for sacred spaces, places of prayer and places to store ceremonial instruments.
As with other Balinese buildings, bale meten building is a residential house that uses a bridge with a fairly high floor of the yard land (±75-100 cm). This building is a building that has the tallest place in all bales in one yard to avoid groundwater catchment.
Bale Dangin or sikepat
Bale Dangin is located in the East or dangin natah umah, often also called Bale Gede when bertiang 12. Bale Dangin's function is to place a ceremony and bias functioned as a bed. The facilities in the Bale Dangin building use 1 bale-bale and if Bale Gede uses 2 bales located on the left and right.
The shape of the Bale Dangin Building is rectangular or rectangular, and can use saka / pole made of wood that can amount to 6 (sakenem), 8 (sakutus / astasari), 9 (sangasari) and 12 (saka roras / Bale Gede). Bale Dangin building is a residence that uses a bridge with a floor that is quite high from the yard land but lower than Bale Meten.
Bale Dauh/Lodge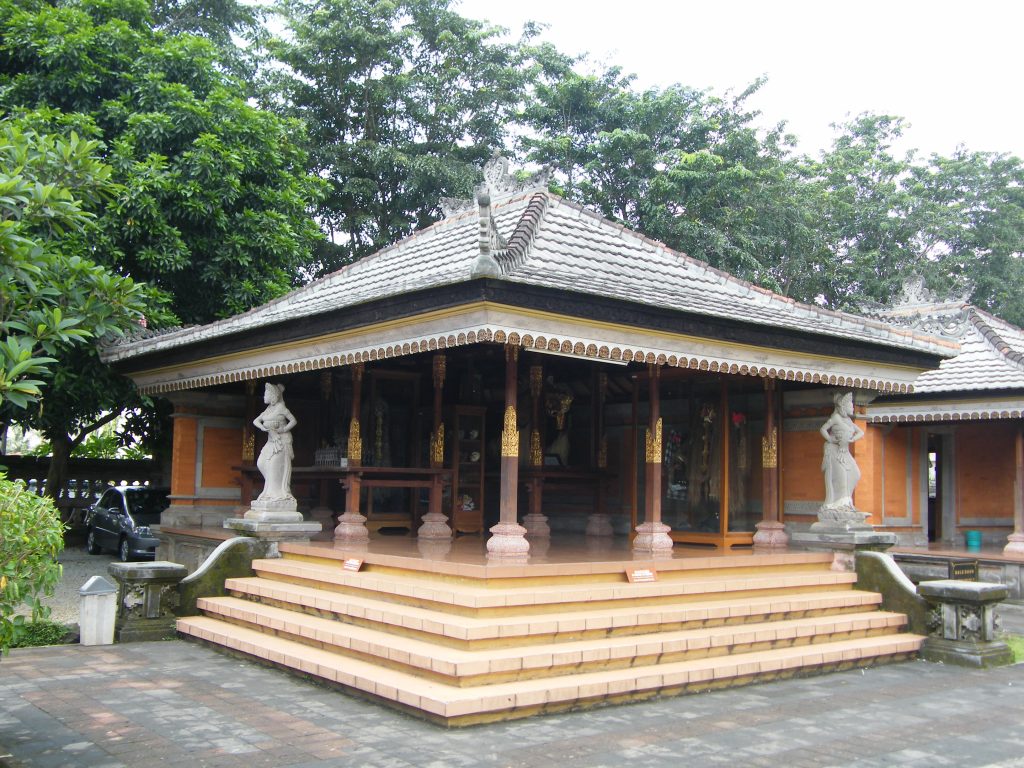 Bale Dauh is located in the West (Dauh natah umah), and is often also called BaleLoji, and Tiang Sanga. Bale Dauh's function is for a place to receive guests and is also used as a bed for teenagers or young people.
The facility in the Bale Dauhini building is 1 bale-bale located on the inside. The shape of the Bale Dauh Building is long, and uses saka or poles made of wood.
If the pillar is 6 called sakenem, if the number of 8 is called sakutus / astasari, and if the pole is 9 numbered it is called sangasari. Bale Dauh building is a residence that uses a house with a lower floor than Bale Dangin and Bale Meten.
Bale Delod or Sekenam
BALE DELOD: Bale Delod aka Bale Payadnyan is a place to put banten during certain ceremonies as well as temporary funerals for family members who died.
Paon
Paon is a kitchen, a place to cook for families. The kitchen is usually placed to the west of the bale delod, somewhat to the south.
Paon itself is almost the same as pawerangan but more species as a kitchen or cooking place. Balinese traditional houses have their own special place for cooking called paon and can be located behind the traditional house.
Basket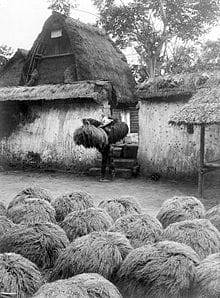 Eighth, is Jineng or Barn which is located to the southeast of Bale Delod. Jineng is a place to store crops, in the form of rice and other garden products at the top. At the bottom, it's a place to relax. Seventh, is Paon or kitchen, which is a place to cook for the family. The kitchen is usually placed to the west of the bale delod, somewhat to the south.
Angkul-angkul (puintu Gate)
In addition to these buildings, the house is usually lined with walls or plants clamped with bamboo and at the entrance of the yard is built angkul-angkul. To prevent people from directly being able to look into the yard and to resist reinforcements, it is usually built aling-aling in the form of a barrier wall behind the angkul-angkul.
Aling -aling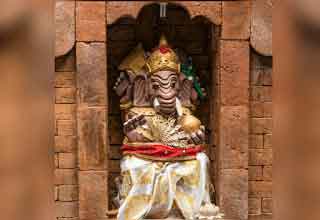 Aling-aling is a barrier between angkul – angkul with the yard of the house and holy place that serves as a neutralization of negative disorders both occasionally and niskala.
Stirring corals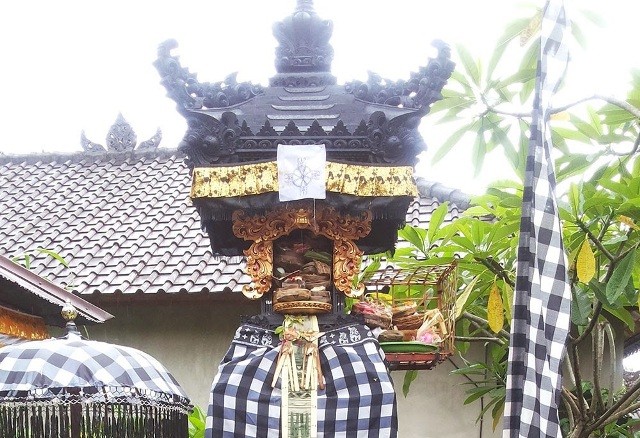 The last balinese traditional house building part is Sanggah pengijeng karang. Sanggah pengjeng karang is a roofed building with permanent. This is located in the house, Sedahan Karang can be placed anywhere from the position of "teben" if what is considered "upstream" is Sanggah Kemulan, more or less on the northwest side of the house complex or the west side of the building "bale daja", has the function of protectors, guards, representatives and caretakers of the occupants of the house and the contents of the yard of the house.