The island of Kalimantan is inhabited by various tribes, because it also has several separate Kalimantan traditional houses according to their territory and tribe. However, the main tribes that inhabit this region include: Dayak tribe, Malay tribe, Banjar tribe, Kutai tribe and Paser tribe. Kalimantan Island has 5 (five) provinces, namely North Kalimantan province, East Kalimantan province, West Kalimantan province, Central Kalimantan province and most finally South Kalimantan province.
In each province of Kalimantan has a traditional house that has different forms, but there are some of the same characteristics, between one traditional house and another.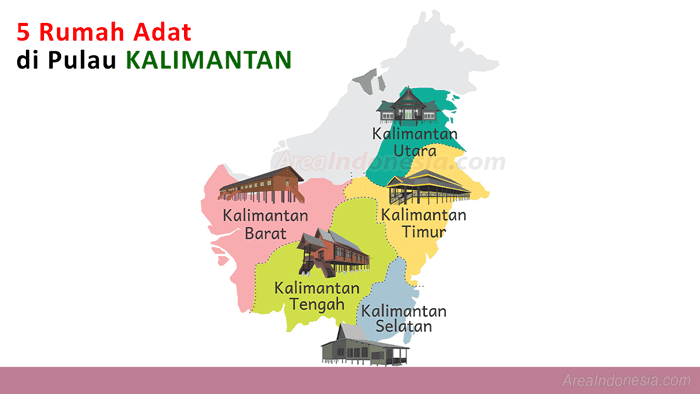 Borneo is famous for its long and large rivers. There are 3 (three) longest rivers in Indonesia located in Kalimantan namely Kapuas River, Mahakam River and Barito River. In addition to the three big rivers, there are many other small rivers. So do not be surprised if traditional houses in Kalimantan are made into the form of stilt houses to avoid flooding and wild animals.
In addition, traditional houses in Kalimantan usually use ulin wood as the main raw material of the house that will get stronger if exposed to water (*extraordinary). This ulin wood is different from other woods, where if other wood will even be weathered if exposed to water. That is the characteristic of traditional houses or traditional houses in Kalimantan that are adapted to their natural conditions.
Baloy House
The Tidung tribe is an indigenous tribe that inhabits North Kalimantan. The Tidung tribe has its own custom house, which is named baloy house. Baloy house is a traditional East Kalimantan house in the form of a stilt house made of ulin wood. The roof of the baloy house is decorated with carvings depicting the marine life of the Tidung tribe.
North Kalimantan Traditional House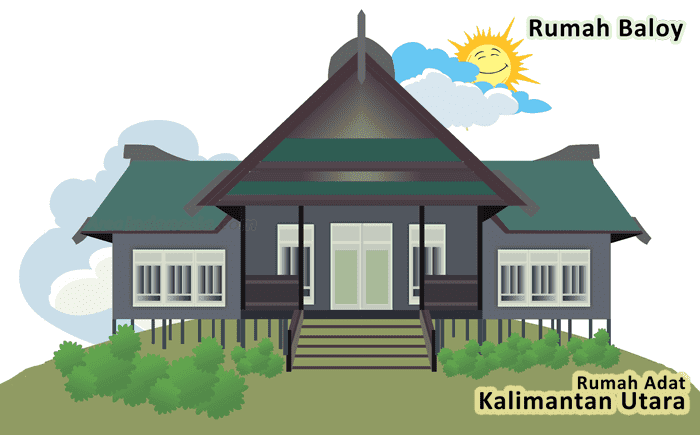 Baloy house is a traditional house yaag not for daily living use but becomes a shared house used for traditional meeting events or art performances.
Panjang House
The panjang house is the traditional house of the Dayak tribe who live in West Kalimantan. Panjang house is inhabited by several families who live together, therefore panjang house is made very large which can reach 6 meters x 150 meters.
West Kalimantan Traditional House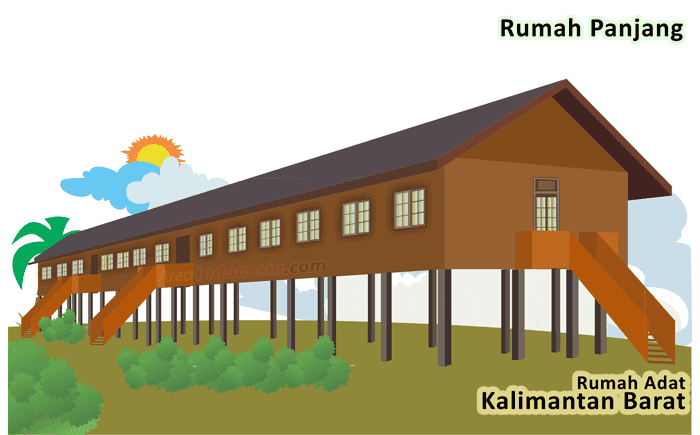 The Panjang house has a high stilt house shape, which is about 3-5 meters from the ground. The panjang house forms a stilt house design because it protects the family from wild animals and avoids flooding because West Kalimantan has a very many rivers. Not only is there in front, the stairs to enter the panjang house are also on the side and behind the house.
Lamin's House
Lamin house is the name of a traditional house in East Kalimantan. Lamin house is very large, because it is used as a residence for several families at once. Lamin house living room is made with a large size because it is commonly used for customary deliberation activities.
Rumah Adat East Kalimantan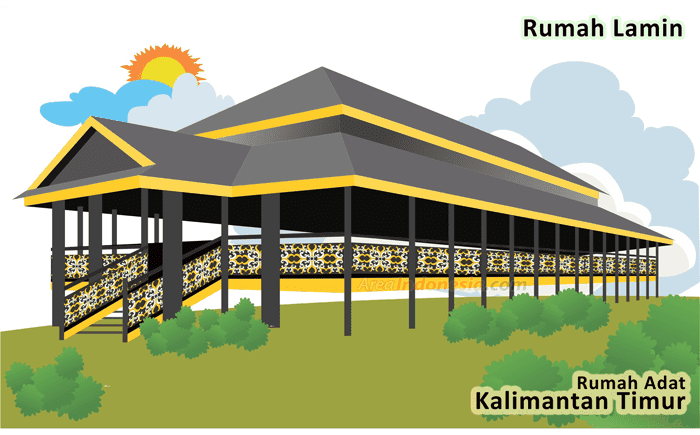 This stage house is made of wood. The walls of lamin houses are decorated with carvings typical of the Dayak tribe of East Kalimantan and are usually yellow, black and white. There is only 1 ladder to enter the lamin house located in front of the house only.
Betang House
Betang house is the traditional house of the Dayak tribe in the Central Kalimantan region. Betang house can accommodate up to 150 people or 10-30 families.
Central Kalimantan Traditional House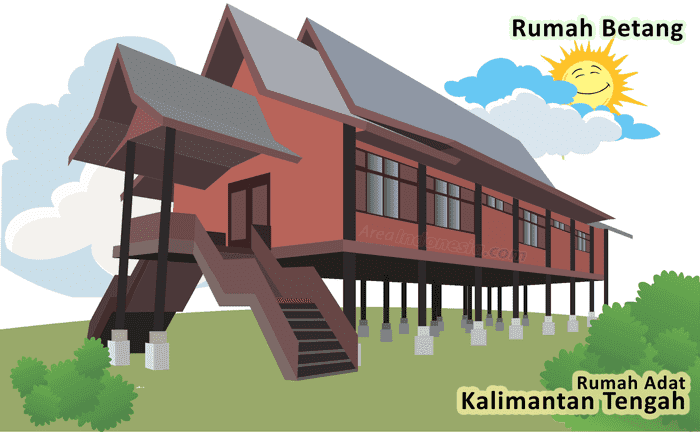 This house is also in the form of a stilt house like a panjang house and has an odd number of stairs. In addition to being used for residence betang houses are also used for traditional meetings. Just like other traditional Kalimantan houses, betang houses also use ulin wood which is a strong main raw material for the manufacture of this house.
Baanjung House
The Banjar tribe is an indigenous tribe in South Kalimantan, and has its own traditional house, the baanjunghouse. On the left and right sides of the main building of the baanjung house there are additional buildings such as wings or baanjung in Banjar language.
South Kalimantan Traditional House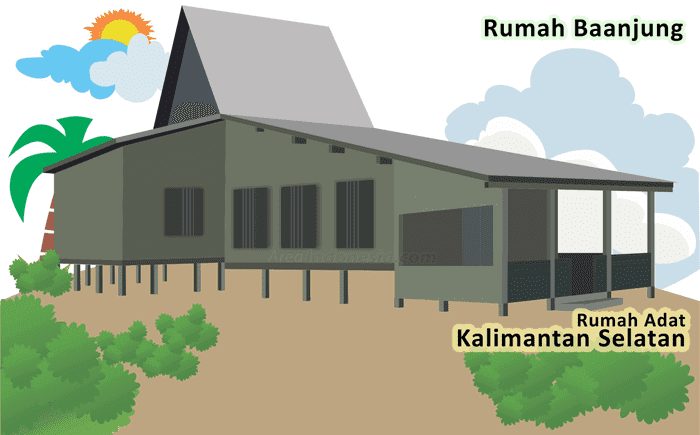 If you look at the house from the side, it looks like the roof is in the shape of a tall triangle. The floor in the house is multi-storey according to the room. Part the front and back of the house tends to be lower than the space. The middle part.