Indonesia or the Republic of Indonesia is an archipelago consisting of various islands and ethnic groups. As it is well known that Indonesia is an archipelago, it is not surprising that Indonesia has diverse ethnicities and races, the understanding of ethnic groups according to KBBI has the meaning of social unity that is distinguished from other social unity based on the identity awareness of cultural differences in particular language, each of the ethnic groups of the nation certainly has its own uniqueness and characteristics.
Administratively Indonesia is divided into 34 (thirty-four) provinces, but in 1 (one) province itself is not actually inhabited by one tribe only. In this discussion will be explained about the traditional houses of nusantara in each province. And in each province there can be more than 1 (one) traditional house because there are various tribes as well, but this time we will only show one of the popular traditional houses in each province.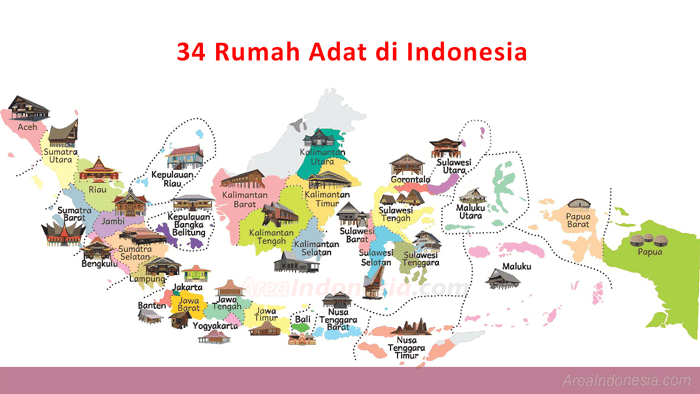 Indonesia has a diverse culture. One form of Indonesian cultural diversity lies in the architectural design of traditional houses of the archipelago. Currently the existence of traditional houses is decreasing because it is eaten by the times and modernity.
In addition, the manufacture of some traditional houses is also difficult to do and cost a lot of money. Some traditional houses have begun to be abandoned and others modified with modern elements.
Introducing the architectural design of traditional houses in Indonesia is our effort to reintroduce Indonesian customs. Today it is not only the culture of the area that is increasingly abandoned, but also the values and local wisdom in the community. We hope that millennials and generation z (young Indonesian generation) will get to know Indonesian culture more through the explanation of traditional houses in this post.
Of all the traditional houses in Indonesia, the average traditional house is in the form of a stilt house because to avoid flooding or wild animals. Some other traditional houses are closed, the reason is to keep the residents feeling warm, because they are in the mountains. This shows that the original houses of Indonesia are made in accordance with the natural conditions around it.
To see and more details, please click (link) the name of the custom house below:
Traditional Houses in Kalimantan
5 traditional houses on the island of Kalimantan:
Traditional Houses in Java
6 traditional houses on the island of Java:
Sulah Nyanda
Banten Traditional House
Kebaya House
DKI Jakarta Traditional House
Jolopong House
West Java Traditional House
Joglo House
Central Java Traditional House
Joglo House
Traditional House of D.I. Yogyakarta
Joglo House
East Java Traditional House
Traditional Houses in Sumatra
10 traditional houses on the island of Sumatra:
Krong Bade
Traditional house of D.I Aceh
Toba Batak Hall
North Sumatra traditional house
Limas House
South Sumatra traditional house
Gadang House
West Sumatra traditional house
Selaso Falls Twins
Riau traditional house
Split Ridge
Riau Islands traditional house
Kajang Lako
Jambi traditional house
Stage House
Bangka Belitung traditional house
Ridge Five
Bengkulu traditional house
Nuwou Sesat
Lampung traditional house
Traditional Houses in Maluku
2 traditional houses in Maluku Islands
Traditional Houses in Sulawesi
6 traditional houses on sulawesi island
Tambi House
Central Sulawesi traditional house
Boyang House
West Sulawesi traditional house
Banua Tada
Southeast Sulawesi traditional house
Tongkonan House
South Sulawesi traditional house
Walewangko, Heir's House
North Sulawesi traditional house
Dulohupa
Gorontalo traditional house
Bali Customs House & Nusa Tenggara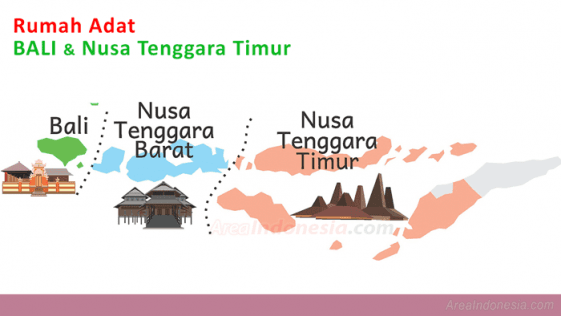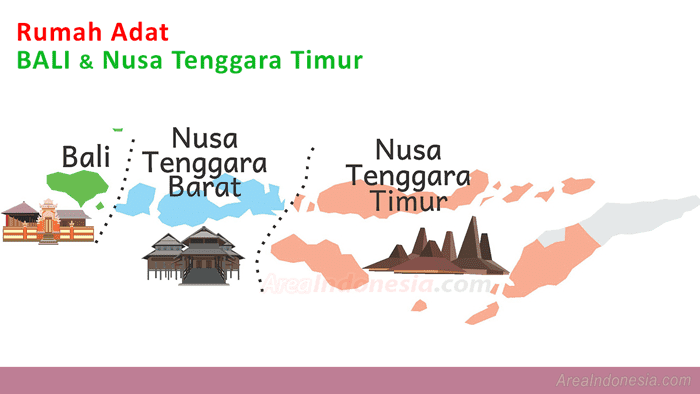 3 traditional houses in kep. Nusa Tenggara
Traditional Houses on the Island of Papua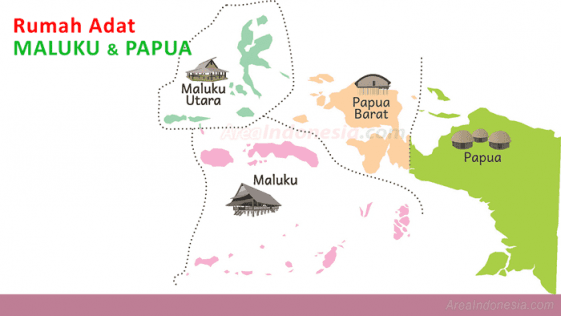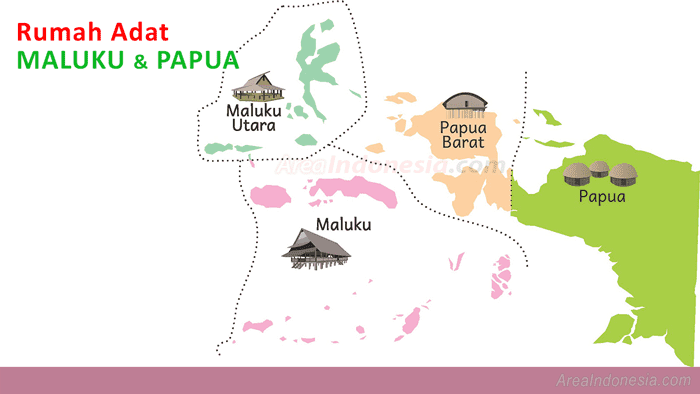 2 traditional houses on the island of Papua
In addition to in accordance with the landscape (area / region), Indonesian traditional houses are also adapted to the customs or religious values in the surrounding community. Please note there are some traditional houses that are used only for customary events only while other traditional houses are used as residences of customary chairmen.
The interesting and special thing about traditional houses in Indonesia is the use of raw materials that use natural materials to build the traditional house. Natural materials in question are such as ulin wood, dried tree smelt, bamboo, clay, natural stone and rumbia.
Hopefully this post can also be a contribution to the National Literacy Movement and useful for those who read it.