Kelimutu Lakes is one of Indonesia's flagship lakes. This lake has a natural beauty that will amaze you with its nature. Curious? We'll discuss it for you.
Kelimutu Lakes
Kelimutu Lakes is located in the Ende area of Flores Island, East Nusa Tenggara. It is at an altitude of 1,639 mpdl.
Kelimutu Lakes has fickle lake water, ranging from blue, red, and white. This discoloration depends on the temperature, gas, and mikorba in the lake. It's amazing, isn't it?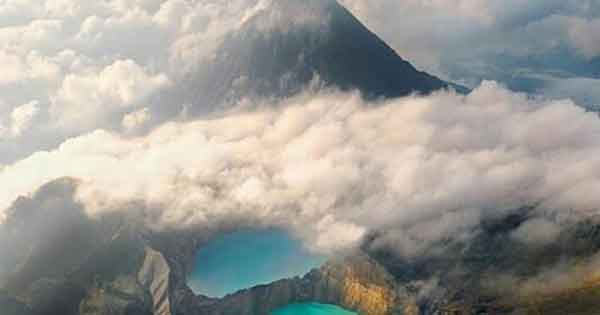 Kelimutu Lakes consists of 3 lakes, of which these three lakes have their own names, all three have different depths, areas and facts. All right, let's talk about it one by one.
1. Tiwi Ata Mbupu Lake
Tiwi Ata Mbupu Lake has a depth of about 67 meters with an area of about 4.5 hectares. This lake has a water color that is green.
2. Tiwi Nuwa Muri Koo Fai Lake
Tiwi Nuwa Muri Koo Fai Lake has another name, Lake Pemuda and Gadis which has the deepest depth delivered by two others, namely 127 meters. It is also the largest lake compared to the other two.
The area of this lake is about 5.5 hectares. Very spacious yes! This lake has a characteristic color that is moss green color. This color is certainly influenced by marine biota that is mosses that are around the lake. Lake erosion affects the color of the lake's water.
3. Tiwu Ata Polo Lake
Tiwu Ata Polo Lake is the smallest and shallowest lake between the other two lakes. The lake has a depth of about 64 meters, with an area of about 4 hectares. This lake also often changes the color of the water. The color of the water can change to red and dark brown. This lake is also a source of water that will flow into the Ria Mbuli river which also flows from Mount Kelimutu.
Another fact that is no less important for you to know is, Mount Kelimutu once erupted in 1886. It erupted again in 1968.
Mount Kelimutu is one of the active volcanic mountains in Indonesia. This active volcanic mountain has a beautiful natural beauty. Data in 2015 stated that, tourists both local and foreign who have visited kelimutu lake reached 62,957 people. Wow!
The fact that the discoloration occurred in the three lakes above is a cause. The first cause is about the change of volcano gas. The gas in the volcano is fickle. Iron contained in the fluid can cause water changes in the three lakes above to brown or red.
Marine biota such as moss also affect the change of lake water to be greener than before. As already explained, the walls of the lake covered by moss and erosion that occurs can cause a change in the color of the lake water.
But there are a few things that should be a record for those of you, who want to visit. First, about his natural state. Mount Kelimutu is one of the active volcanoes in Indonesia.
What is feared now is that the dividing wall between the three lakes is starting to erode slowly and continue to thin. So you have to stay alert when visiting this lake.
And the second is about garbage. Yes, garbage becomes the biggest enemy for natural attractions. Trash can damage the environment, damage beauty and worse your garbage can damage the tourist attractions you visit. So, if you're visiting, hold it and throw the trash in its place. What's more for plastic bottle waste. You are strictly forbidden to throw garbage into kelimutu lake.
Access to Kelimutu Lakes Flores NTT
Are you interested in visiting? All you have to do is fly from Jakarta to El Tari airport, Kupang, East Nusa Tenggara. Then continue the journey to the airport in Ende, namely H. Hasan Aroeboesman airport with only 45 minutes drive.
Then you can continue your journey by mini bus to Moni village located at the foot of Mount Kelimutu with a distance of 2 to 3 hours.
From Moni village you can go to the gate to Kelimutu Lakes in just 30 minutes. If you want to see the sunrise or sunrise on the lake, you can stay in moni village. In Moni, there are hotels and hostels that make you comfortable. Hope this article is useful for you.
Please leave a message or impressions for those who have visited..