The island of Bali is located at 8°25′23″ South Latitude and 115°14′55″ East Longitude which makes The Island of Bali its main attraction, the tropical Bali Beach like other regions in Indonesia. The island of Bali is based on reliefs and topography in the middle of which lies a mountain range that extends from west to east and among the mountains there are clusters of volcanoes namely Mount Agung and Mount Batur.
Mount Agung is the highest point in Bali at 3,148 m. The volcano last erupted in March 1963. Mount Batur was estimated 30,000 years ago, erupting and producing catastrophic disasters on earth. Then there are the volcanoes that are not fiery, namely Mount Merbuk, Mount Patas and Mount Seraya.
Among the mountains there are a number of volcanoes both active and inactive, namely: Mount Agung is 3,142 meters high, Mount Batur is 1,717 meters high from sea level, Mount Abang is 2,276 meters high, Mount Batukaru is 2,276 meters high. The island is diss uprooted by rivers, canals and forest-covered canyons.
The valleys and hills are colored by the expanse of rice green tapestries, the beautiful tip of Bali Beach and the lakes that fill the rest of the crater. Bali Island has 4 (four) lakes located in the middle of the island mountainous area, namely: Lake Batur / Bedugul with an area of 1,607.5 hectares, Lake Beratan 375.6 hectares, Lake Buyan 336 hectares and Lake Tamblingan 110 hectares. Rivers sourced from tropical forests and lakes flow to the south. Alisan such as Unda river, Petanu River, Ayung River, Pulukan River, Loloan River and others.
The island of Bali in addition to consisting of the island of Bali itself there are also several areas consisting of smaller islands around it, namely Nusa Penida Island, Nusa Lembongan Island, Nusa Ceningan Island, Serangan Island, and Menjangan Island. Bali Island has 8 regencies of local government and one provincial capital, namely: Badung Regency, Bangli Regency, Buleleng Regency, Gianyar Regency, Jembrana Regency, Karangasem Regency, Klungkung Regency, Tabanan Regency with a total of 57 Subdistricts and Denpasar City which is the capital city with an overall area of 5,780.06 km² or about 0.29% of the territory of the Unitary State of the Republic of Indonesia.
On August 14, 1958 Bali was inaugurated based on Law No. 64 of 1958 on the establishment of Level I Areas of Bali, covering the Area of Sunda Kecil consisting of Bali, West Nusa Tenggara and East Nusa Tenggara. So that every August 14th is used as the eastern day of Bali Province before the expansion and until now.
Bali Island as The Prima donna of Indonesian Tourism
As one of the prima donnas of Indonesian tourism that has been famous in foreign countries, the island of Bali is not only famous for its natural beauty, but also famous for its art and culture that is very distinctive and not owned by any tourist attraction in various countries.
Tourism destinations on the island of Bali are centered in South Bali and in several other areas. Bali Island as a tourist destination has a lot of interesting destinations, including: Pandawa Beach, Pantar Karma Kandara, Kelingking Beach on Nusa Penida, Melasti Beach, Virgin Beach, Dreamland Beach, Menjagan Beach Jimbaran Beach, Nusa Dua Beach, Kuta Beach, Sanur Beach, Padang – Padang Beach, as well as Lovina Beach with its Dolphins.
There are also Garuda Wisnu Kencana (GWK), Tanah Lot Temple, Besakih Temple, Uluwatu, Ubud, Munduk, Kintamani, Amed, Tulamben, Beratan Bedugul Lake, and many more. The island of Bali also has several educational tourist centers for children such as zoos, three-dimensional museums, water playgrounds, and turtle breeding grounds.
The island of Bali is also famous for its dance art that can be categorized into three groups, namely wali or sacred performing dance arts, bebali or performing dance arts for ceremonies and also for visitors and balih-balihan or dance arts for the entertainment of visitors. Dances that are very popular among tourists include Kecak Dance and Pendet Dance. Around the 1930s, Wayan Limbak collaborated with German painter Walter Spies to create Kecak dance based on Sang Hyang tradition and ramayana story, then popularized by Wayan Limbak who traveled the world with a troupe of Balinese dancers.
The world of Hollywood cinema and other countries are racing to capture the beauty of Bali Island, Bali Beach and its very distinctive arts and culture as in 2012 Savages, a thriller starring John Travolta, Salma Hayek and Blake Lively, and in 2019 an action film called Alex Cross starring Tyler Perry and Matthew Fox, Eat Pray Love, a 2010 Hollywood drama starring Julia Roberts. , Road to Bali a 1952 Hollywood comedy film starring Bing Crosby and Bob Hope, and not to miss South Korea in 2004 had worked on one of the famous dramas titled Memories of Bali starring Jo In Sung, Ha Ji Won and So Ji Sub.
List of 7 Bali Beaches
The island of Bali is the last chain of imaginary line-up of tropical islands that mark the separation of the Ecological Zones of Asialis and Australasia has many beaches. There are more than serratus beaches located on the island of Bali and a cluster of surrounding islands that have their own charm and beauty. Among the beaches on the Island of the Gods, some of the beaches below are favorite destinations of local and foreign tourists.
1. Pandawa Beach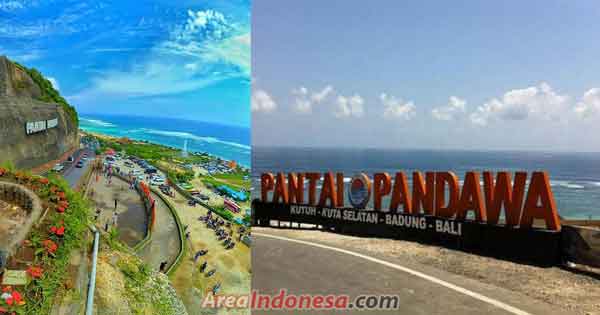 Pandawa Beach is located in south Kuta, Badung Regency, Bali. Bali Beach has two very large cliffs that on one side are carved five statues of Pandawa and Kunti. The statues are arranged sequentially from the highest position, namely Dewi Kunti, Dharma Wangsa, Bima, Arjuna, Nakula, and Sadewa. This beach is also a tourist destination and water sports, and is used as an area for seaweed cultivation because of the sloping contours of the beach and waves that do not reach the shoreline.
2. Karma Kandara Beach
Bali Beach has the main attraction because of the white sandy with very clear sea water. This beach is located in Ungasan area, South Kuta. Tourists who come to Bali Beach are prohibited from littering around the beach area, so cleanliness on the beach is very maintained.
3. Kelingking Beach on Nusa Penida
This beach looks like a hidden paradise located nusa penida, Klungkung regency. Bali Beach has the charm of a white sand beach with turquoise blue water, surrounded by headland and steep cliffs that offer a wide ocean view that can be seen from the top of the cliff. The enchanting blue color of the sea, the big waves roaring with the wind from a distance will add to the beauty of paradise on this beach.
4. Melasti Beach
Located in the area of Ungasan, South Kuta, Badung Regency, Bali Beach has a charm that is located on the road access to Melasti Ungasan Beach tourists must pass through a winding derivative road that sits atop towering white limestone cliffs. Access road to the beach location flanked by white coral cliffs that look like the road to Pandawa Beach.
5. Nusa Dua Beach
Bali Beach, located in South Kuta, Badung Regency, often hosts events such as the UN conference, APEC Summit, and others. Also visited by King Salmans in 2017. The beauty of Bali Beach is unquestionably, its name is so famous among local and foreign tourists.
6. Padang Beach – Padang
Padang Padang Beach Bali is also known as Labuan Sait beach. The Hollywood film Eat Pray Love, took one of the film scenes on labuan sait beach. Similarly, Michael Learn To Rock's music group chose Labuan Sait beach as the filming location for one of their music videos to make Labuan Sait Beach more famous abroad.
7. Lovina Beach
Lovina Beach is located about 9 km west of Singaraja city, this is one of the tourist attractions in North Bali. Bali Beach is known as one of the beaches frequented by dolphins in Indonesia. the existence of dolphins is one of the main attractions of this beach.
The uniqueness of the location against the background of shady hills and steep coral reefs, is a characteristic of Labuan Sait beach. To get to the shoreline location, visitors must pass a road that resembles a cave. Then go down dozens of stairs that are only enough for one person to pass through. After passing the stairs, white sand with calm and clear water will be visible in front of the eyes.